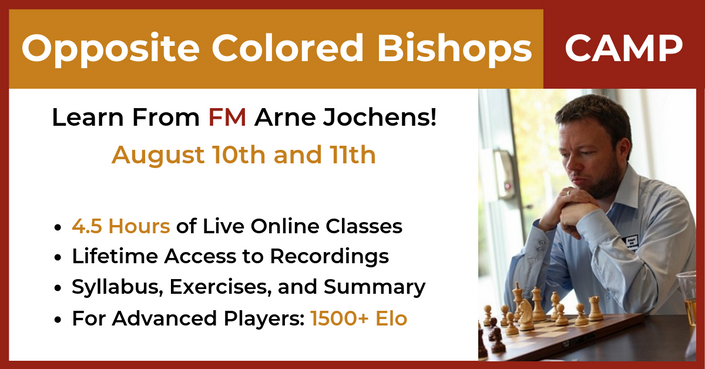 Understanding Positions with Opposite-Colored Bishops
Chess University Weekend Camp August 10th-11th with FM Arne Jochens
Watch Promo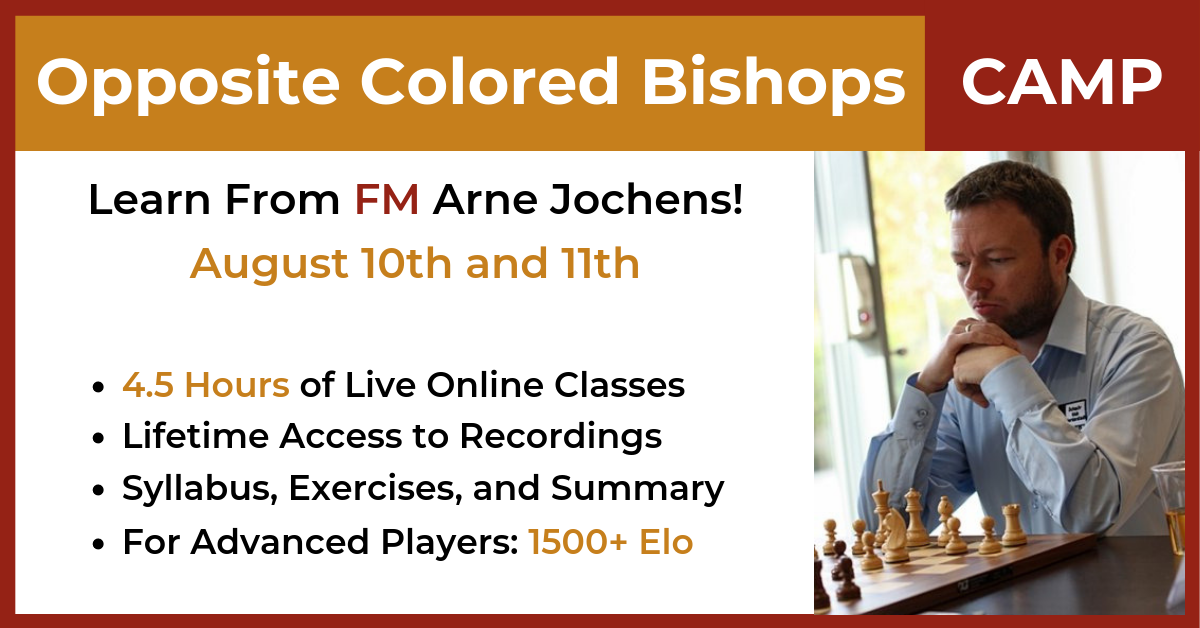 Understanding Positions with Opposite-Colored Bishops - Weekend Chess Camp with FM Arne Jochens
Syllabus
Positions in which each side has only one bishop (and perhaps other pieces), but the two bishops move on squares of opposite colors, are among the most intricate in chess. They are difficult but rewarding to master, as they frequently occur in practice and feature certain positional ideas that are universal but most pronounced in this type of position. These include positional sacrifices, blockading, choice between active and passive defense, and attacking weak color-complexes.
In this camp, experienced Chess University coach FIDE-Master Arne Jochens invites students on a tour across the entire range of these fascinating positions. The first two lessons cover some of the most important endgames, as well as some typical ideas in more complex endgame positions. Subsequent lessons are devoted to middlegames, featuring typical attacking ideas and defensive resources.
This camp was taught live in August 2019 but the video recordings, PGNs, and other course contents remain available for life. Check out the full course details below and sign up to improve your endgame play.

Target audience
Players rated 1500 and above (advanced players)
Learning objectives
This course is designed to improve the student's ability to
assess when and how one or two extra pawns are enough to win such an endgame;
choose the right defensive strategy when behind in this endgame;
conduct attacks on weak color-complexes with confidence;
defend against such attacks;
execute surprising positional sacrifices.
Course includes
Course syllabus (this document)
Exercise sheet with four challenging exercises to prepare students for the live lessons
4 recorded lessons (about one hour each) with a total video run time of 4 hours and 30 minutes.
4 PGN files featuring the positions and variations discussed in the live lessons
Summary sheet with the instructor's take on the most important points
Start by watching the introductory video lesson with pre-camp puzzles for free to see if this course is right for you. Enroll today to learn everything you need to know about positions featuring opposite colored bishops from one of Chess University's premier coaches.



Your Instructor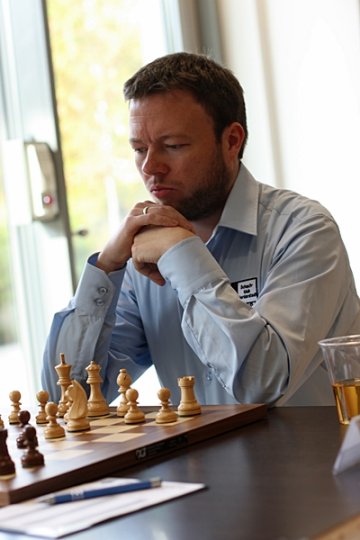 FM Arne Jochens, Ph.D is a highly experienced educator and chess coach as well as the Director of Content at Chess University, Inc. | ChessUniversity.com.

Frequently Asked Questions
What if I can't attend live?
Don't worry! By enrolling in this camp you'll receive lifetime access to the recording of the lessons can may watch on-demand as many times as you'd like!