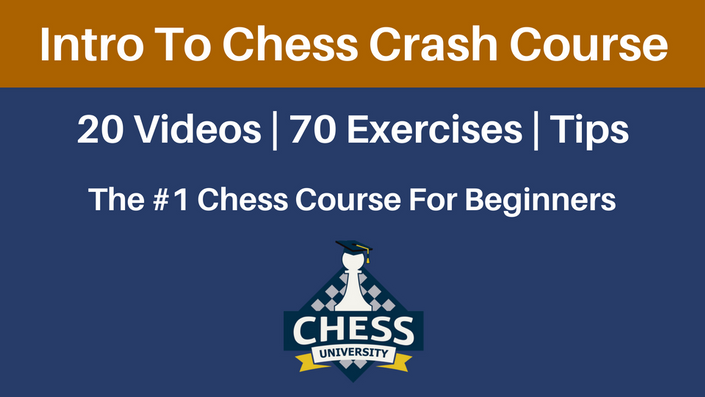 The ChessUniversity.com Intro To Chess Crash Course offers comprehensive instruction for beginners, including first-time players, who want to learn chess. This course caters to players of all ages whose chess strength is below the rating of 900 Elo (novices and beginners) and is completely free. Novices will learn everything needed in order to start enjoying the game of chess.
The Prodigy Program 0-899 Elo Intro To Chess Crash Course includes:
• 20 video lessons with premier chess coaches including Kairav Joshi, FM Dalton Perrine, FM Arne Jochens, and IM Kostya Kavutskiy
• 7 worksheets each containing 10 problems to solve and the associated solution sets
• Tips and principles for the different phases of the game
• General information, FAQ, and suggestions for further improvement
• Checklist to keep your study organized (start with this)
Enroll in this course to start learning chess!

Your Instructor
Kairav Joshi is a renowned chess coach, educational entrepreneur, and Founder of Chess University, Inc., the world's premier online chess academy which owns websites such as https://www.chessuniversity.com and https://www.chessvl.com.
Kairav started his journey as an online chess coach eventually becoming the #1-selling online chess coach in the world by the age of 15. Kairav partnered with Chess.com in 2011 and started pioneering online chess education with live, online college-like chess courses and online chess camps with famous grandmasters such as Boris Gelfand.
After graduating college with a Bachelor's Degree in Physics at the age of 19, Kairav created the Prodigy Program, the world's first fully structured live online chess learning program. The Prodigy Program enabled students from around the world to learn chess from the best coaches and players from the leisure of their own homes. The Prodigy Program quickly garnered attention from the global chess community and became Chess University's flagship offering.
In 2016, Kairav reached out to five-time World Champion Viswanathan Anand, who endorsed Chess University's Prodigy Program and started teaching online lessons that same year. Since then, Kairav has organized live online masterclasses with distinguished chess personalities including 12th World Champion GM Anatoly Karpov, legendary trainer IM Mark Dvoretsky, and World Champion Magnus Carlsen's coach GM Peter Heine Nielsen.
Till date, Kairav has taught over 20,000 students live online through the Prodigy Program and has helped players of all ages improve at chess and further develop their critical thinking skills. He also led the production of Chess University's free Intro To Chess Crash Course to help novices, including first-time players, learn the basics of chess from the #1 online chess academy for free.
In 2017, Kairav collaborated with Dr. John Wait and hit a new milestone for the chess world by presenting the world's first graded, in-school, honors chess class entirely online, to a U.S. public high school.
As of August 2018, Kairav Joshi remains the President and CEO of Chess University, Inc. and is interested in partnering with schools, non-profits, corporations, government, and any individuals interested in learning chess or integrating chess in schools. Kairav's vision for Chess University is to help over a million students learn chess by end of 2019. Outside of chess, Kairav is working on an upcoming online STEM education start-up and occasionally mentors budding entrepreneurs.


Contact Info:
Email: [email protected]
LinkedIn: https://www.linkedin.com/in/kairav-joshi-57738832/


Frequently Asked Questions
When does the course start and finish? How long do I have access?
This video course starts now and never ends! It is a completely self-paced online course - you decide when you start and when you finish.
How long do I have access to the course?
This course includes lifetime access, it never expires! After enrolling, you have full on-demand access to this course for as long as you like - across any and all devices you own.
Is this course really free? What's the catch?
Yes, the Intro To Chess Crash Course is absolutely free and there is no catch. We created this course to help the global chess community and help beginner players learn all the basics for free.